ISABELA, GALAPAGOS: Photographs From a Recovering Ecosystem
Text: Andreea Lotak; Photos: Justin & Andreea Lotak · 3 min read
Getting to Puerto Villamil, with a population of some 2,000 inhabitants, meant an instant change of vibe to that of a lazy island in the sun. We were greeted by pristine, blue and shallow waters filled with marine life, while the unpaved streets of the town promised a more quiet experience than the one on San Cristóbal or Santa Cruz.
Isabela is the largest of the islands in the Galapagos. The northern end is crossed by the Equator, its line cutting through the habitat of the Wolf volcano. Puerto Villamil, the only town, is small but growing, and tourism is starting to make its way here. Speedboats and a small airport connect it to the other inhabited islands. On the town's outskirts, the landscape is dominated by fragmented lava with cacti and brush vegetation painting a moon-like picture. Rising to 1,124m/3,687ft above sea level, the Sierra Negra active shield volcano can be visited on a guided day hike, the only of the six volcanos on this island that can be explored by visitors.
Our dream for Isabela was to go up the Alcedo volcano, home of the largest population of Giant tortoises in the world. Then we wanted to take a day trip to the west side of the island and see penguins, flightless cormorants, and fur seals. Maybe a stop on uninhabited Fernandina, which is filled with wildlife and is the youngest island in the Galapagos. None of those wishes could come true. The Alcedo volcano was closed to the public a long time ago, while Puerto Villamil is not currently offering any trips to the west side of Isabela or to Fernandina. In order to do that we would have needed to get back to Santa Cruz or San Cristobal and take a boat trip from there. So we adapted, as every living being does in the Galapagos, and settled for what was available. This still meant plenty of incredible opportunities of being in the presence of endemic species with beautiful landscapes as the backdrop. Everywhere one looks there's something to marvel in this isolated archipelago. Below are a few of the pictures we've taken while enjoying for two days the slow pace of Isabela.
Isabela has five distinct subspecies of giant tortoises residing on each of the volcanoes. Spotted at the Arnaldo Tupiza-Chamaidan breeding center, this giant tortoise seems to belong to the Iguana cove tortoise subspecies found mainly on the Cerro Azul volcano on the southern side of the island

A panoramic view of the second widest volcano crater in the world after that of the Ngorongoro volcano in Tanzania. It's 10 km in diameter and parts of it were covered with a new layer of lava during the last eruption in 2005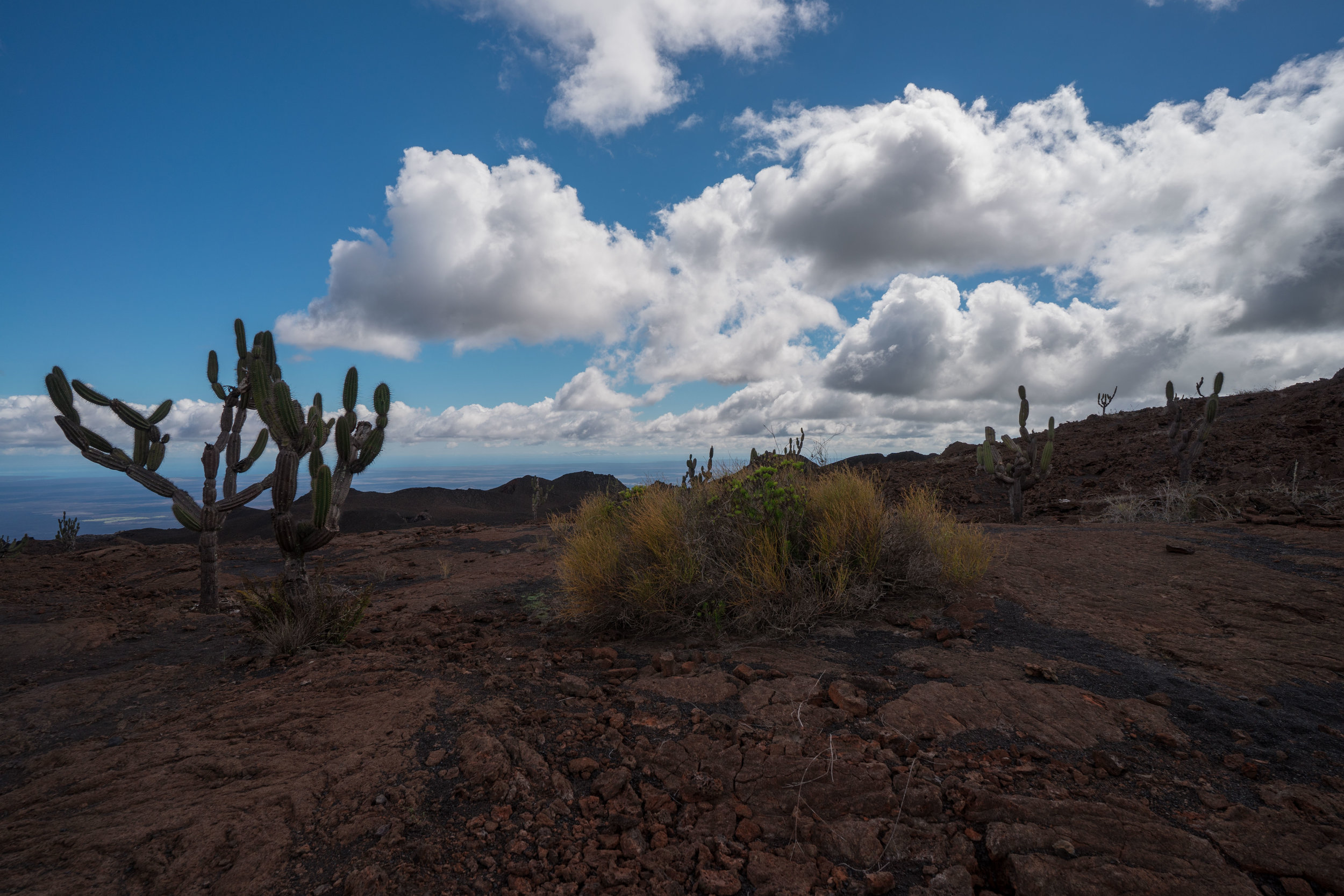 Landscape created by the lava fields in the heights of southern Isabela. When we were there it hadn't rained in over 7 months on the island, though the wet season was definitely in full swing on Santa Cruz and San Cristóbal