VISITING KARUKINKA: La Paciencia Trail
Text & Photos: Justin Lotak · 6 min read
There's a reason why the trail is called "La Paciencia" — Patience. It's not as much the length, but rather the remoteness, terrain and weather that will test one's patience along this seldom-visited backpacking route in Karukinka Natural Park. But for those that make the journey, their patience will be rewarded with incredible views of the Darwin Range, rare sightings of Fuegian biodiversity, and vivid emotions that might only be found in the remaining wildernesses of the world.
BRIEF SUMMARY:
La Paciencia (or "the patience") is a 40 mile (66 km) round-trip trail in Karukinka Natural Park, a 735,522 acre (2,720 km²) private reserve owned and managed by the Wildlife Conservation Society (WCS). The park is remote, located in southern Chilean Tierra del Fuego, but visitors can experience a well-rounded introduction to the extreme climates, beautiful landscapes, and rare species that reside in this region while hiking La Paciencia. As far as difficulty, we rate this hike 7/10; it is not very long nor is the terrain very technical, but the harsh weather (rain, snow, 50+ mph winds, and then more rain) that can arrive within a moment's notice and the remoteness of the region make this hike potentially dangerous. Visitors should have thorough backpacking experience before attempting. Also, the rain and river crossings can make for a very uncomfortable night in your down sleeping bag if it gets soaked, so be sure to bring dry bags and rain gear. On the other hand, what makes this hike challenging is what also made it one of our favorites; we will forever remember our time on "La Paciencia".
CONSERVATION ASPECTS:
For thousands of years, the land and coastlines of Karukinka were inhabited by the Selk'nam indigenous people, also known as the Onawo or Ona. They lived off the land and coastlines, using bows and arrows for hunting, and collecting calafate and other berries for gathering. As the region became colonized by Europeans in the late 19th century and resource exploitation began to take place, forestry became one of the primary industries within this area and a timber company managed much of what is now Karukinka. The company went broke and, as part of paying its debt, it gave the lands of Karukinka to its creditor, Goldman Sachs. The investment bank donated the land in 2004 to WCS for conservation purposes.
Although WCS primarily promotes this area to be visited by scientists and those studying the ecology of the region, Karukinka is open to tourism as well. The money generated from visitors helps sustain the conservation mission of the park. The duties that WCS lists on its website pertaining to Karukinka are:
Prevent direct threats to terrestrial and aquatic wildlife

Control of exotic species

Research and monitoring

Promoting the conservation of ecosystems beyond Karukinka

Development of sustainable economic policies that consider the professional collaboration with the local community of Magallanes and other areas
Karukinka's ecosystems consist of old-growth forests, peat bogs (or "turberas", in Spanish), high alpine meadows, and many river valleys. The wildlife is rich and consists of guanacos, elephant seals, culpeo fox, and many species of birds such as Magellanic woodpeckers, Austral kestrels, Andean condors, Patagonian Sierra finch, Ringed kingfishers, Kelp geese, Magellanic oystercatchers, and Magellanic penguins. The forests are very wet and therefore contain a variety of fungi species as well as lenga (Southern beech), ñirre (Antarctic beech), and coigüe de Magallanes (Evergreen beech) trees. Invasive species include the beaver which has caused tremendous change to the ecosystems of Tierra del Fuego, and cows and bulls which are still present within the boundaries of the conservation area.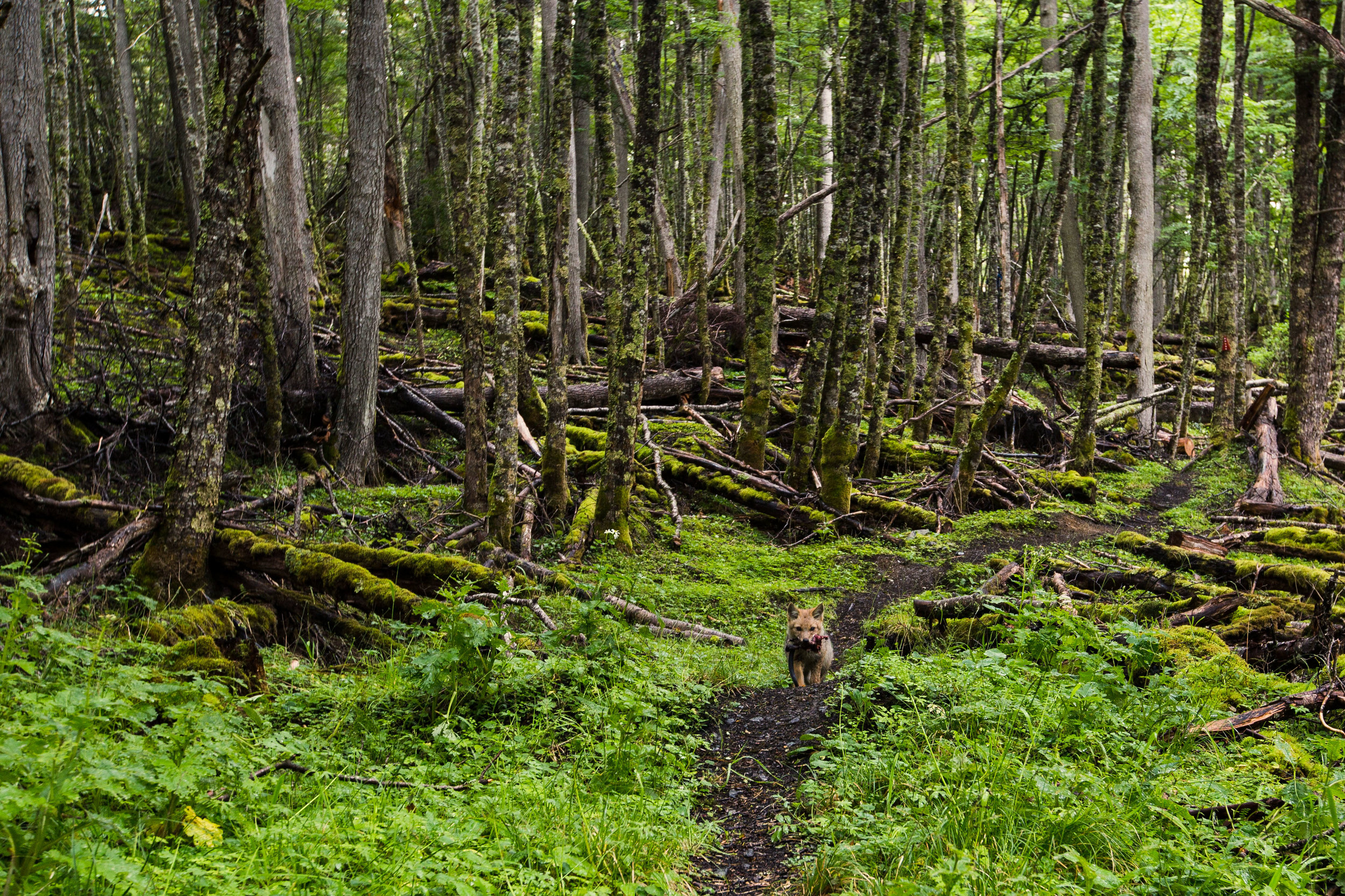 A juvenile Fuegian culpeo fox with a mouthful of food walked right up to us along the trail without realizing we were there. This was the moment he stopped, thought for a while, and then turned around.
Detailed Description:
Getting to Karukinka can be difficult. To visit from Punta Arenas by car, one needs to cross the Strait of Magellan either via Porvenir or Cruce Punta Delgada, and the trip will take approximately eight hours one-way from Punta Arenas to the Karukinka offices in Vicuña. Also, there are no gas stations near the park, so to make the roundtrip by car it is necessary to bring an external fuel tank. At the time of writing there were buses that go from Porvenir to Pampa Guanaco just north of Karukinka, but that is still some twenty minutes by car to Vicuña. Alternatively, there are some drivers that one can hire in Porvenir; the cost of this trip may seem high, but so is the cost of the gasoline required. The logistics of getting to Karukinka will likely change as the region develops its tourism industry, so be sure to check with a tourism office in Punta Arenas or on Karukinka's website for the latest recommendations on visiting the park before departing.
At the time of writing (April 2017), there were five primary trails in Karukinka accessible from or near Refugio Vicuña. Three of them - Laguna del Cura, Pietro Grande Hill, and Cóndores Imaginarios Hill - are day hikes; and another called Valle del Consejo is a two-day hike. More information about these can be found on Karukinka's website or by visiting WCS's offices in Vicuña. The fifth hike, La Paciencia, is a 4-7 day hike of 40 miles roundtrip and is the hike that we did in February 2017 with two friends from Punta Arenas. The time duration can vary quite a lot depending on weather conditions and personal preferences.
The trailhead of La Paciencia is several kilometers south of the park offices. There is a small ranger station there and they can help with any final questions you might have prior to your departure. Be sure to tell them your plans for the hike and when you expect to return. Also, it will be helpful to review one of their brochures that show the native species of the park.
The trek consists of hiking along the south side of the Sanchez river, and you will pass seven valleys while making your way towards Aserradero La Paciencia, located on the beautiful Almirantazgo Sound. Although the hike is primarily along this river, it is undulating for much of its length, and in some sections the steep mud can be very difficult to ascend or descend if the conditions are wet. There are a few stream crossings, and towards the end of the hike there is a crossing of the Rio Sanchez, though at the time of writing there was a (slightly submerged) tree to use to get across the river. Visitors will also quickly take note that this region has been severely impacted by beavers, which are not native to the region. In some sections, it is necessary to cross large beaver dams, though these are not usually difficult.
Overall, the hike will reward its visitors with incredible views of this valley and its forests, mountains, rivers, and wildlife. Towards the western side of the hike, the ground begins to get wetter and there are a few peat bogs to cross before arriving at the spectacular Almirantazgo Sound, with views of the wild and rugged Alberto de Agostini National Park and of the new Yendegaia National Park.
For gear, be sure to have a raincoat with hood, rain pants, waterproof boots, and dry bags for your items that cannot get wet. Extra socks and an extra set of dry clothes will likely be helpful. Fires are not allowed, so be sure to bring a gas stove and cooking gear if you want to have hot meals and/or drinks. We would also recommend bringing an extra day's worth of food in case weather adds unexpected time to your trip. There is water along the trail and we drank from small clear-flowing streams without issue, but with the beavers in the area you may want to boil or purify your water to be safe. As for the rest of the gear you will need, this will mostly be the typical backpacking items: tent, sleeping bag, sleeping mat, headlamp, and however much weight in extras you want to add.
For a map of the hike, we recommend buying the SIG Patagon map of the region, which can be found at outdoor shops in Punta Arenas, such as Mountain House (tell them we sent you!). The trail is well-marked, but having a topo map in a remote region where the weather can significantly reduce visibility is a safe backup. Plus you might want to put the map on your wall afterwards. In addition, we have included a jpg of WCS's trail map below, with their permission:
Species to Note:
This region of southern Tierra del Fuego is rich in wildlife, and WCS has some excellent booklets that can help quickly identify many of the species you might see along the trail. Below are some introductions to a few of the species you might come across during your hike.
Guanaco (Lama guanicoe): Guanacos are native to South America, and are related to the llama, vicuña, and domesticated alpaca. They tend to be up to 1.2 m (3 ft 11 in) at the shoulder and weigh 90 to 140 kg (200 to 310 lb). Although guanacos are commonly seen along the pampas of Patagonia, they are harder to see while in a forest environment. In Karukinka, listen for their calls and you'll likely see some hiking amongst the trees, making for more unique photo opportunities of these emblematic species of Patagonia.
Fuegian culpeo fox (Lycalopex culpaeus lycoides): This subspecies of culpeo fox resides on the island of Tierra del Fuego and is considered "Vulnerable" in Chile. It is the largest and heaviest subspecies of culpeo fox, with bodies that can measure up to 156 cm in length. It is the southernmost canid in the world, and primarily feeds on rodents, birds, and rabbits. In 2007, at Karukinka Natural Park, scientists witnessed this species of fox also predating young guanacos, which was the first time this was observed.
Andean condor (Vultur gryphus): Native to the Andes mountains of South America, the Andean condor is one of largest flying birds in the world, with a maximum measured wingspan of 3.3 m (10 ft 10 in). They are often seen soaring at high altitudes, using their outspread wings and heat thermals to remain in the air for extended periods of time. Condors can be identified from their ring of white feathers surrounding the neck, as well as their horizontally outstretched wings with the primary feathers bent upwards at the tips. They are the national bird of Chile, and are also found on the country's coat of arms.
Southern elephant seal (Mirounga leonina): Of almost unbelievable size, the Southern elephant seal is the largest pinniped and carnivoran in the world. An average adult male can weigh between 2200-4000 kg (4900-8800 lbs) and be 4.2-5.8 m (14-19 ft) in length. The largest adult male was found on South Georgia island and weighed 5000 kg and measured 6.85 m in length. Southern elephant seals can be found in Jackson Bay in the southeast part of Karukinka Natural Park, and this small colony is the only colony to be found on mainland Chile (when including Tierra del Fuego as part of the mainland).
Black-browed albatross (Thalassarche melanophris): The black-browed albatross is a medium sized albatross with a wingspan of 200 to 240 cm (79–94 in), and an average weight of 2.9 to 4.7 kg (6.4–10.4 lb). They are mostly white, with dark gray upper wings and saddle, with dark feathering around the eyes – hence their name. They reside in the southern oceans, and can be seen off Isla Tres Mogotes in the Almirantazgo Sound. In fact, this is the only colony in the world to nest in internal waters. They are listed as "Near Threatened" by the IUCN.